Find The Best Kitchen Remodeler in Amelia Island: United Marble, Granite & Tile
United Marble, Granite & Tile has been around for years and it is due to our commitment to quality services in Jacksonville Beach. We've set ourselves apart from other companies by providing premium craftsmanship and an unmatched customer experience.
If you're seeking a kitchen designer and remodeler in St. Johns, look no further than United Marble, Granite & Tile. We've got over a decade of expertise in the business, allowing us to guarantee that your kitchen complements the rest of your house properly. We'll work with you to design a space that is both beautiful and practical, and we'll be there for you every step of the way to guarantee that the procedure goes as smoothly as possible.
We are a business dedicated to delivering the greatest quality and most comprehensive remodeling services in our region. We try to deliver all you need as soon as possible. We're always one step ahead of the competition when we get to your house. We now have one of the most lovely showrooms in town, a fantastic design team, and some of the best materials on the market.
We have over a decade of expertise in kitchen design, installation, and management. When you come to our showroom, our professional designers will guide you through the remodeling process. You may contact us to set up an appointment right now.
Custom Cabinetry and Countertops
We provide kitchen remodeling services at no cost to homeowners in St. Johns, including custom cabinetry and marble bathroom countertops. When it comes to the kitchen design selection, we can help you choose the ideal one for your needs. We are kitchen remodeling professionals, and we can provide you with high-quality services that will meet your demands.
We realize that renovating a kitchen may be stressful. Allow us to take the strain off your shoulders and complete the project on time and on budget. We have extensive and incredibly knowledgeable in kitchen renovation, so you can rest confident that your kitchen will be redesigned to perfection for exceedingly helpful.
Because there are so many alternatives, kitchen and bathroom remodeling services are frequently tough to choose from. Contact United Marble, Granite & Tile right now if you want help selecting the finest service!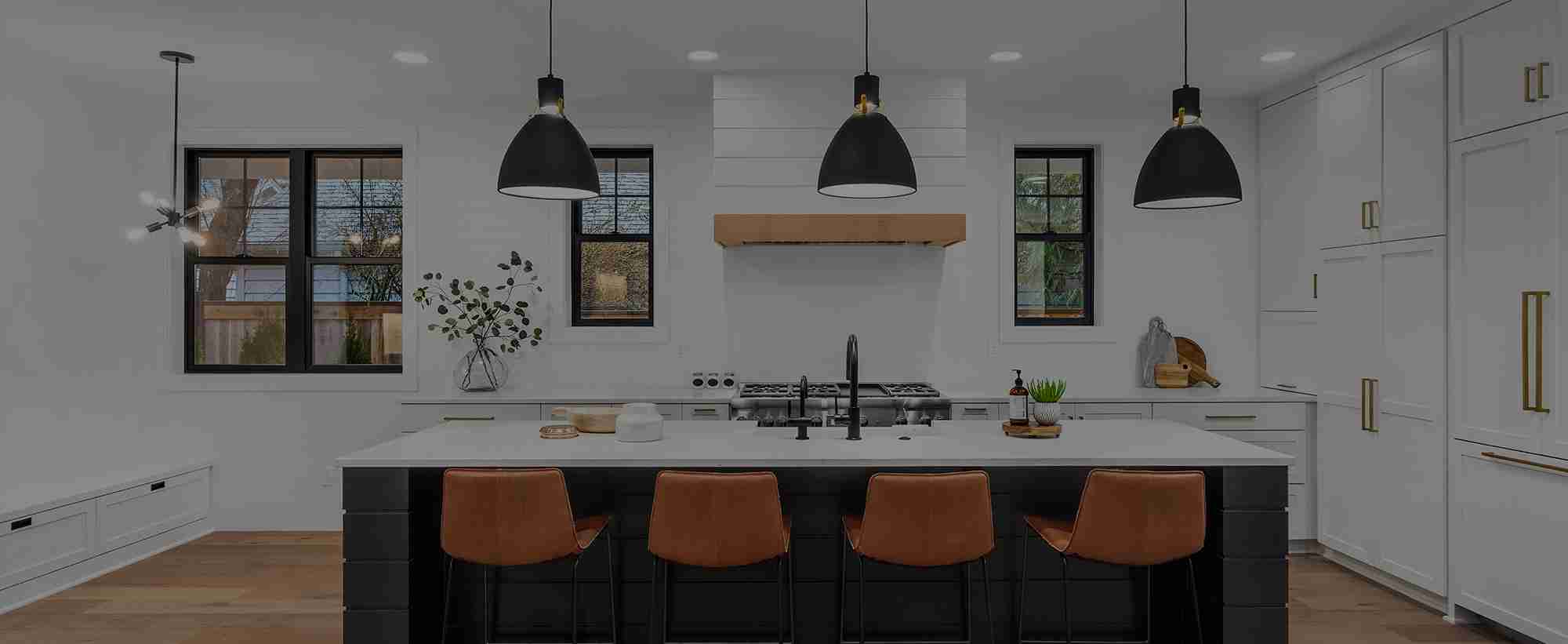 Experienced Remodeling Specialists for Your Kitchen Remodeling Needs
Please contact us to book an appointment. Don't forget that we can also help you with any kitchen or other home design needs. We look forward to hearing from you soon!
We at United Marble, Granite & Tile are dedicated to providing the most useful and appealing function and style for each project as your experienced building specialists. We think in terms of offering you everything you want: attractiveness, usefulness, and dependability. We're not satisfied with our efforts until you are with new countertops!
As a full-service kitchen remodeling business, we'll be there for you from the start to the end of your project, cleaning up afterward. We'll go through all of the available alternatives for your remodeling and assist you in selecting materials, colors, and styles that match both your preferences and budget.
Plan a Remodeling: Kitchen Design, Technology, and More
Our experience in kitchen design can assist you in achieving the appearance and ambiance you desire for your project. After discussing various technology, cabinet style, and configuration possibilities with our remodeling contractor, you need to work with a competent designer that can modify the methodology to your unique demands.
Your One-Stop Shop for Kitchen and Bath Remodeling Ideas
The first thing you'll need to consider is whether United Marble, Granite, and Tile will be there for you! We offer a large selection of kitchen and bathroom remodeling ideas. We have the most diverse kitchen and master bath design alternatives accessible, so you'll be able to discover what you need quickly in St. Johns.
Get the Look You Want with United Marble, Granite & Tile: Kitchen and Bathroom Remodeling Services in St. Johns
We offer all types of marble, granite, and tile services in St. Johns. Our designers examine your space from every angle to create an aesthetically appealing design. If you don't know what you're doing, kitchen remodeling might be pricey.
United Marble, Granite & Tile can help you choose and maximize the available space in a contemporary kitchen design for your home. New ideas from United Marble, Granite & Tile may assist you in transforming an outdated kitchen or bathroom into a modern area that you deserve

Get a Kitchen or Bathroom Remodeling with Expert Assistance from Stones
When it comes to renovating, one of the first things that many people think about is their kitchen or bathroom. Creating anything on your own necessitates a lot of planning, preparation, and hard work. With many years of experience in granite remodeling, the natural stone industry is a kitchen and bathroom remodeling firm with significant know-how.
Design Services that Will Transform Your Kitchen & Bath
United Marble, Granite, and Tile's interior design services transform unappealing areas into modern, pleasant rooms. Before beginning any work, our designers will evaluate your space and identify the flaws in order to come up with creative solutions.
When you visit United Marble, Granite & Tile, we'll learn about your planned remodeling and expectations. With lovely outcomes that are also reasonable, we take our satisfied customers' ideas and make them a reality. We're excited to work with you to transform your house into a one-of-a-kind design that reflects your interests in countertop installation. United Marble, Granite & Tile is prepared for anything, whether it's a major or minor kitchen transformation!
Do you require Kitchen & Bathroom Remodeling Services in St. Johns? United Marble, Granite & Tile is the place to go for kitchen and bath remodeling! We provide a wide range of services to our clients, and we are here to help them make the most of any available space. The cost of kitchen and bathroom remodeling may be high, but you won't have to worry about that with us. From start to finish, our team will collaborate with you so that your Kitchen or Bathroom space meets your exact needs!
Kitchen and Bathroom Remodeling: Expert Advice for Fantastic Functionality
We are a kitchen and bathroom remodeling business with many years of expertise. We have all of the understanding, design abilities, and products to provide you with the ideal area at an affordable cost while also fulfilling all of your needs. Homeowners frequently contact us looking for a space that looks fantastic while also functioning well. We recognize how important it is for you to have both!
Kitchen Cabinets and Bathrooms For Every Home: Successful Installation
We are a company that specializes in kitchen and bathroom remodeling. Our goal is to offer our clients something beautiful so they may once again enjoy their house. We've been working on kitchen cabinets and bathrooms for a long time, so we know what it takes to make your project a success. Our installation staff will work tirelessly from beginning to end to make your idea a reality.
Everyone aspires for their house to be perfect, yet this is seldom the case when only one refurbishment or transformation is done. This is why our website provides a broad selection of kitchen quartz countertops, cabinets, and design alternatives so you can select the most suitable match for your tastes and style with excellent service.
Get the Kitchen of Your Dreams
The Kitchen is one of the most important rooms in your home since it is here that people congregate – but what if your professional kitchen does not reflect your personality?
You may have a kitchen that reflects your style, design, and décor preferences. United Marble, Granite & Tile provides everything you need to create beautiful kitchens with great customer service, thanks to its specialized training with a satisfied customers.
We have kitchen designers at United Marble, Granite & Tile that will come to your kitchen with a fresh point of view and offer suggestions based on their many years of experience in kitchen remodeling and quartz countertops. For an excellent job, we provide expert dream kitchen remodeling and bathroom remodeling services or new shower services that will turn your old or drab kitchens into beautiful areas.